Kevin "Rashid" Johnson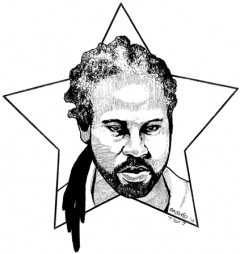 Contact Information
Mailing Address
Kevin Johnson #158039
Sussex 1 State Prison, 24414 Musselwhite Dr.
United States
In 1990, Kevin "Rashid" Johnson was a drug dealer, an ambitious member of amerika's Black lumpen proletariat, or underclass. Like so many, as a young adult he was arrested and received a lengthy prison sentence. He has been incarcerated ever since – for the past eighteen years in conditions of solitary confinement. While in segregation, Rashid taught himself law, and began litigating against the prisons. For a period of six years he launched various lawsuits, and at first scored several victories, until he acquired the reputation of being troublemaker with various judges who then sought to shut him out of the courts.
In the mid-2000s, Rashid took up an illicit correspendence with another revolutionary held at the same supermax prison as him, but in general population. Messages were smuggled back and forth between segregation and general pop for several months. This correspondence, in which Rashid and "Outlaw" discuss revolutionary theory and practice, the challenges of dealing with other less committed prisoners, reactionaries, and snitches, and the question of how to best organize behind bars, has been collected together and is available now in the book Defying the Tomb, published by Kersplebedeb in 2010.