How to Advocate for LGBT Prisoners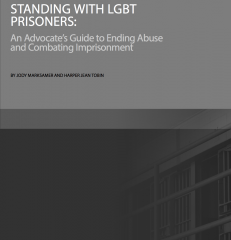 This toolkit is intended for advocates who would like to work, or are working, with local or state corrections or detention agencies to develop and implement more just and humane policies toward LBGT people. This could include statewide LGBT equality groups, state or local transgender organizations, legal advocacy groups, or groups of grassroots activists, as well as organizations already working on prison reform or criminal justice issues that want to incorporate the concerns of LGBT people in their work.
This file is set up to print on two sides of twenty-two sheets of paper, print head to head, flip on the short edge of the paper, fold in half and staple in the middle to form a booklet.