La Vista Newsletter - Women of Words: Stories of Survival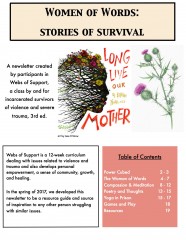 La Vista is a newsletter created by participants in Webs of Support, a class by and for incarcerated survivors of violence and severe trauma, 3rd ed.
Webs of Support is a 12-week curriculum dealing with issues related to violence and trauma and also develops personal empowerment, a sense of community, growth, and healing. In the spring of 2017, we developed this newsletter to be a resource guide and source of inspiration to any other person struggling with similar issues.
Table of Contents
Power Cubed 2 - 3
The Woman of Words 4 - 7
Compassion & Meditation 8 - 12
Poetry and Thoughts 13 - 15
Yoga in Prison 15 - 17
Games and Play 18
Resources! ! 19